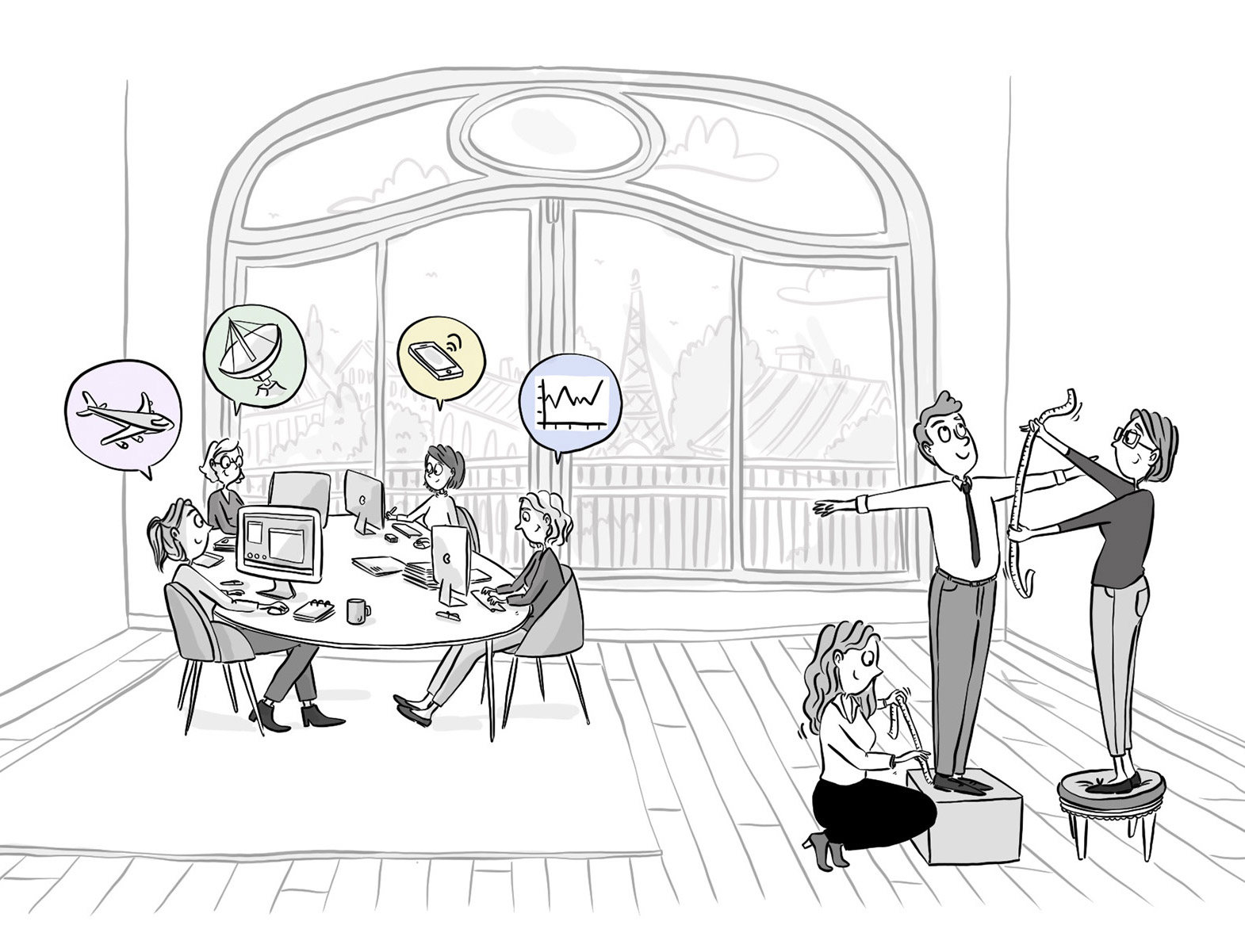 TAILOR-MADE EXPERIENCE
In our line of work nothing can replace a detailed knowledge of people, an understanding of their motivations, their individual and professional paths, and their culture and values.
We have found this to be the best response to existing convictions and stereotypes when choosing the Leaders of tomorrow.
The digital evolution has helped our profession to refocus on the human aspect and it is in fact this passion for human interaction that drives us!
Our Values
Our mission is one of a benevolent facilitator who accompanies businesses and individuals during the evolution of their work life.
We are in awe of the infinite diversity of individuals.
We believe there to be a convergence between the interests of individuals and companies.
For us the Executive Search is a profession in itself and an expertise that can be applied to all positions and industries.
We believe that conducting assessments involves certain responsibilities: confidentiality, respect for the individual, his/her sensibilities, culture and values.
Assessments, although carried out with rigor, can only provide a partial view of an individual. It is not an exact science. It encourages us to stay humble.
Our Background
Founded in 1987 in Paris by Minok Labbé, graduate in Occupational Psychology, Critère has always cared deeply about the psychological assessment of individuals.
Originally Critère specialized in hi-tech industries (Aerospace, Defense, Security, Telecoms), and now it encompasses many other sectors such as business services, automotive, pharmaceuticals, the environment and luxury.
Critère's offering is centered on Executive Search, using a direct approach to recruiting high-level profiles and executive roles. It has progressively expanded to include assessments and coaching.
For over 30 years, our team at Critère has demonstrated its professionalism through the longevity of our partnerships with our clients and the success of our candidates.

A 360° vision
Our Executive Search portfolio covers a range of sectors and roles, with a breadth that is enhanced by the current economic landscape as well as the evolution of human sciences and by more than 30 years of experience.

Working as a Team
Each mission is entrusted to a team of three for greater responsiveness and perspective. This is invaluable for the analysis of the company, both with regards to the position and environment, as well as for the evaluation of the candidates.

Qualitative Assessment
All Critère associates are experts in executive recruitment through direct sourcing, certified in the relevant techniques and tools (personality questionnaires, reasoning exercises) and trained in assessment interviews.
The Team
The team comprises of Consultants, Researchers and an Office Manager embodying the values that have characterised Critère since its creation: professionalism, openness and focus on the client and the individual.
We regularly add external resources to this permanent team, which are made up of former associates of Critère. They know the processes and functioning of our company perfectly and they bring the same level of quality to our services.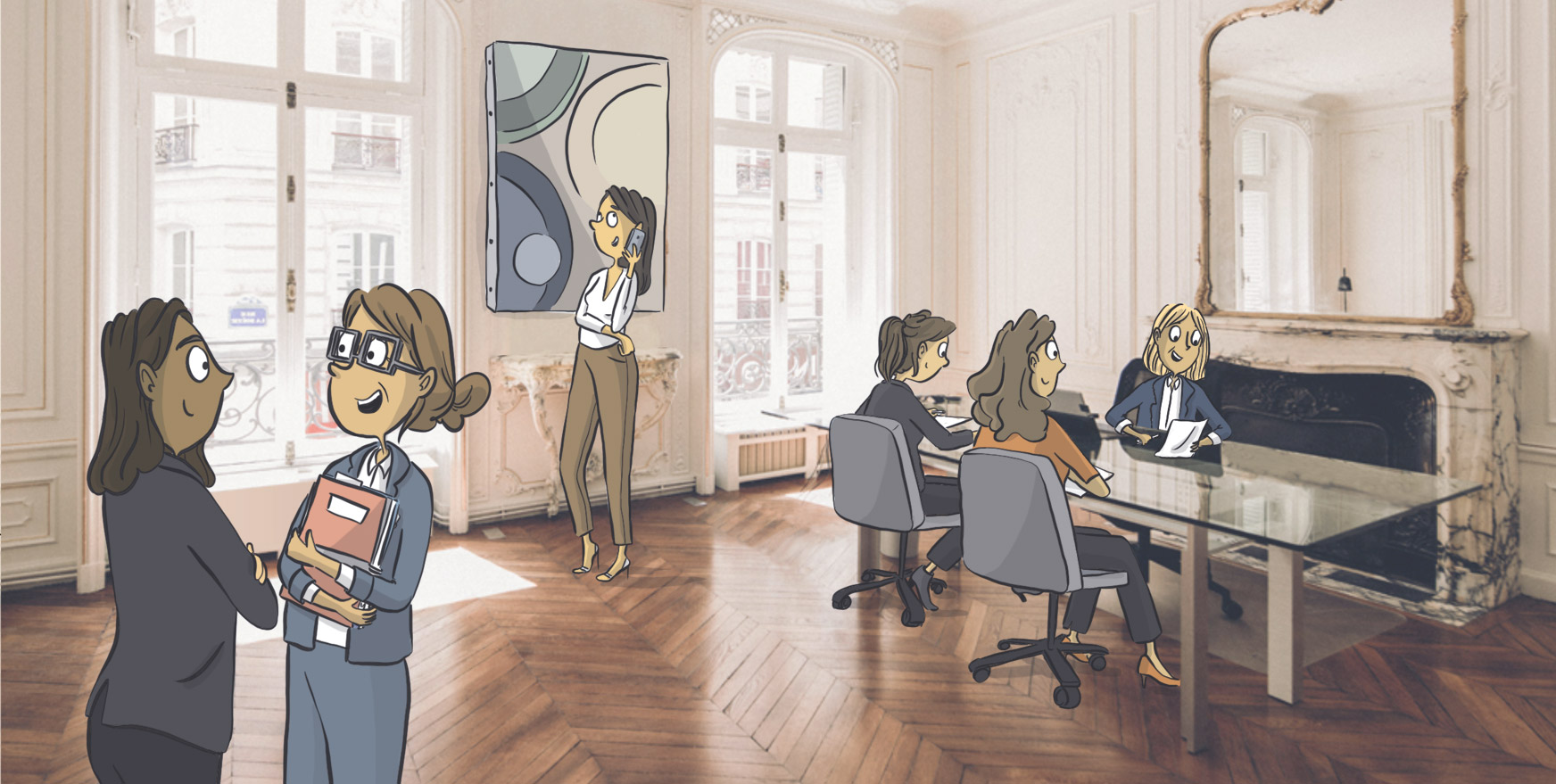 Minok Labbé
Founding President
A psychologist by education, Minok Labbé started her career in Human Resources within various large international organizations (Xerox, Texas Instruments, Thales).
In 1987 she founded Critère and still runs it today. She leads Executive Search assignments, Consulting and Coaching missions for Leaders.

View her LinkedIn profile
Catherine Guilloux
Managing & Operations Director
With a Masters in Law, an MBA from IAE in Aix-en-Provence, and coaching certification from HEC, Catherine Guilloux joined Critère in 1996 after an initial experience as a recruitment consultant. She is responsible for the Executive Search assignments, she carries out Assessments, leads 360° reviews via interviews and fulfills Coaching missions.

View her LinkedIn profile
Caroline de Gouvello
Senior Consultant
An HEC graduate, Caroline joined Critère in 2012 after more than 10 years experience in recruitment consultancy in France and Canada. She focuses on Executive Search, Assessments and 360° reviews via interviews.

View her LinkedIn profile
Executive Search
Purpose
We advise our clients during their strategic recruitment process: to support the
organization in its development, when there is a scarcity of a desired profile, the need to create a new professional activity, a lack of relevant internal candidates or a desire to expand the management team with a profile and experience from "outside the inner circle".
Methodology
Our approach starts with understanding the context, then researching the best applications and evaluating the candidates to understand their professional paths, examine the characteristics of their behaviour, analyse their motivations and outlook.
Then the evaluation is validated and further deepened through personality tests and verbal reasoning exercises. The aim is to fine-tune an understanding of the individual allowing for an exploration into subjects that may be challenging to discuss during an interview. The test results are provided to the candidate during an in-depth interview.
Our approach to how we assess a personality is based on the analysis of the characteristics that the candidate will bring to any professional role :
Energy / Activity
Communication skills
Leadership
Organisational skills, Methodology
Intellectual functioning (logic, creativity, analysis, synthesis…)
Stress and anxiety management
Professional reference checks complete this process and illuminate this future recruit's integration potential.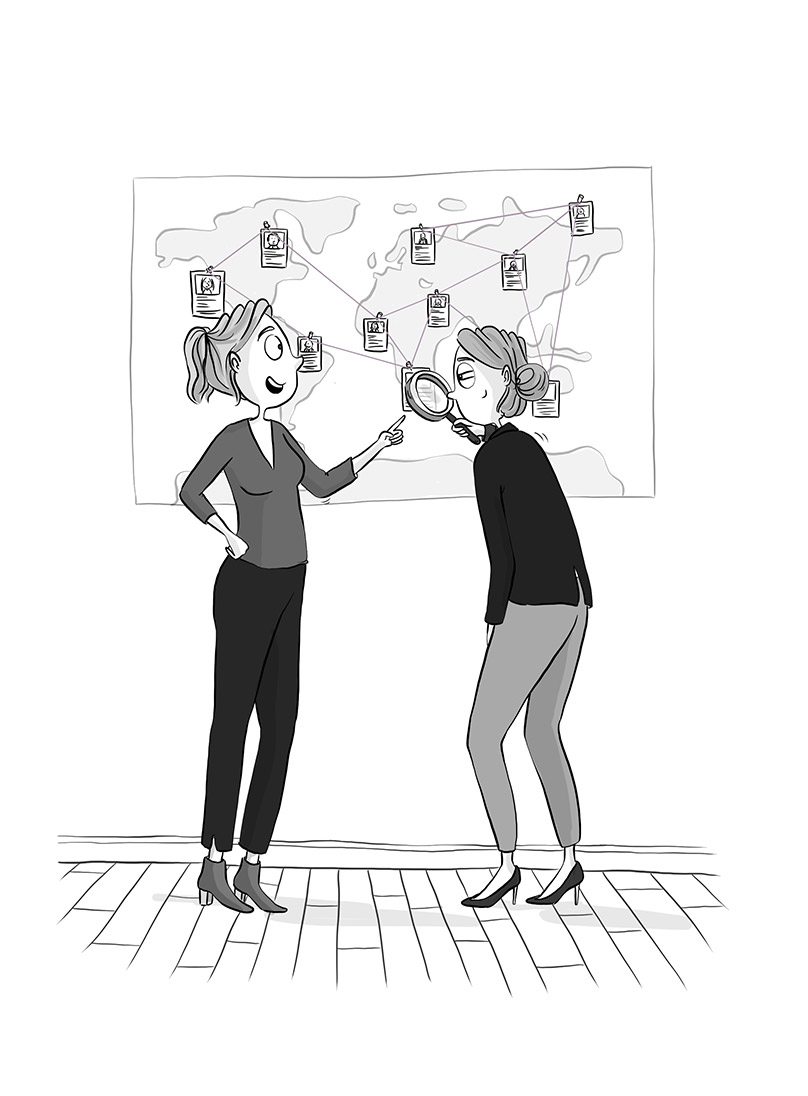 Assessments and 360° Reviews
Purpose
We provide support in the assessment of career paths and behaviours in certain circumstances such as:
The choice between several internal/ external candidates to the company
Career guidance for managers and leaders
To refine what is as stake for the candidate prior to a coaching session
In keeping with a team building and development strategy
Methodology
The assessment comprises of two in-depth interviews led by two different Consultants, as well as a psychological examination whose results are provided to the candidate. These create the basis for a dialogue and a discussion about the candidate's strengths, weaknesses, motivations and where relevant, his/her plan.
For the 360° review via interview, we run a series of interviews (with a group of 6 to 10 peers, colleagues, supervisors) with the aim of evaluating the personal and professional attitudes of a candidate; we develop a summary of these interviews; we communicate it to the candidate and to gather his/her own analysis of the criteria in question.
Coaching
Purpose
Coaching is used to support and reinforce professional efficiency and contribute to the autonomy of the "coachee" in various situations:
Accompaniment (development of potential and strengths, work on weaker points) in preparation for a change of professional environment
Resolution of temporary or more persistent issues regarding leadership, relations with others, stress management…
Conflicts and crisis situations and their effects on individuals
Accompanying clients through their professional redirection after leaving or losing a position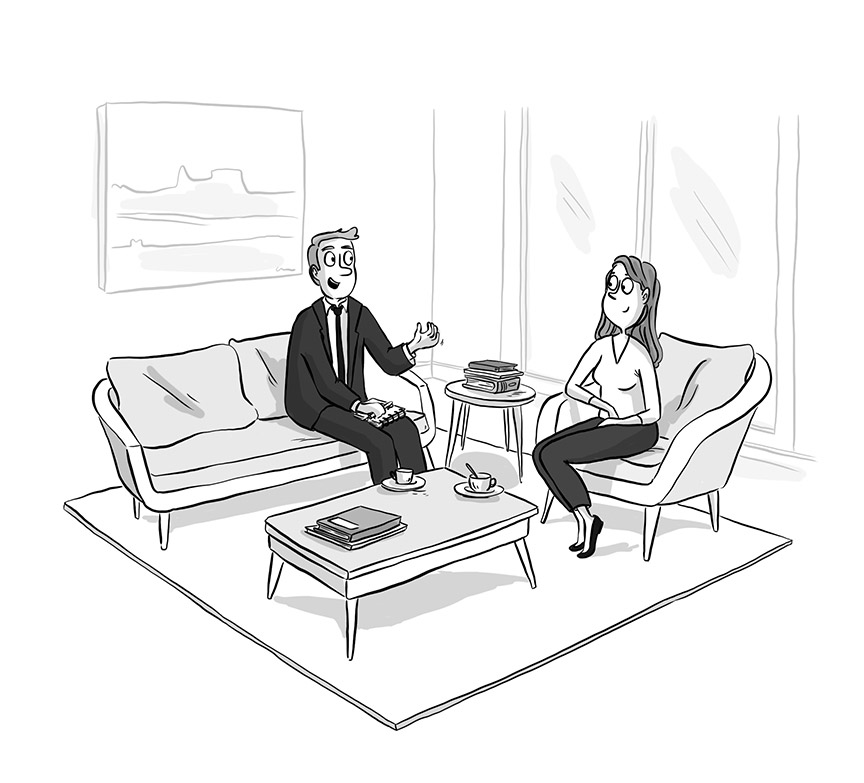 Methodology
Three key steps begin the coaching process: exploration (clarifying the starting point), defining a set of objectives and then a plan of action.
The methodology is based on an Assessment followed by a series of sessions alternating between coaching and periods of "experimentation" in the coachee's line of work. Sessions are tailored in terms of content. They are based on communication and on the use of tools (transactional analysis, role play, tests…) that grow the coachee's level of awareness.
The relationship between the Coach and "coachee" requires reciprocal trust, respect and confidentiality. Even if the Coach resembles a therapist with his/her qualities (presence, listening, empathy, non-judgment…), his/her role exclusively focuses on improving professional behavior.
Our clients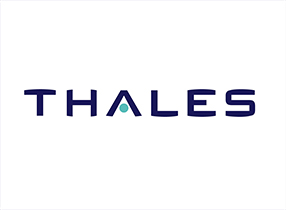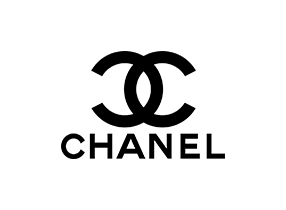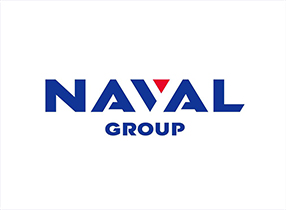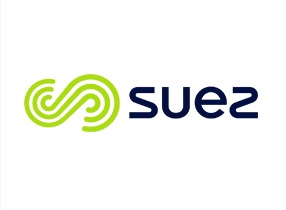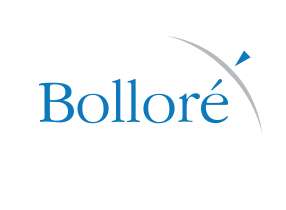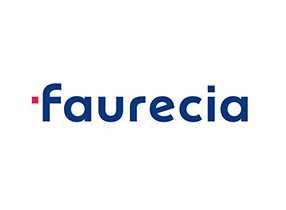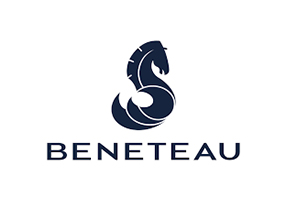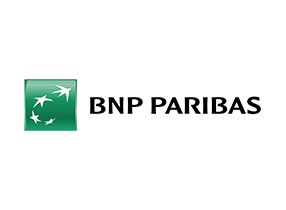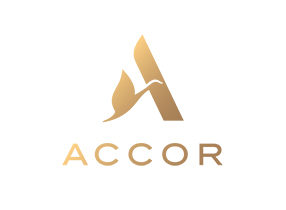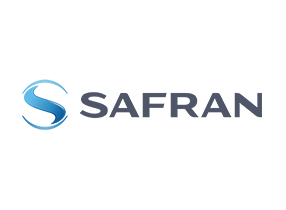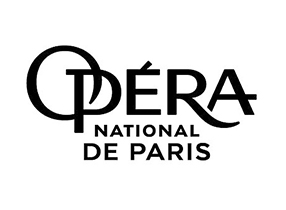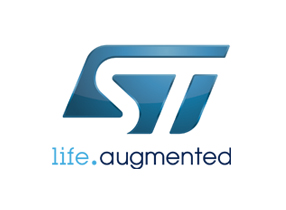 Our Recent Missions
Our client list includes major players in Aeronautics and Defense, Telecoms and Security, Luxury and Services, as well as start-ups and Small and Medium-sized Businesses working with industry leaders.
In recent months, we have successfully managed the recruitment of leaders such as:
Divisional Finance Director
Industrial group in transformation (Turnover > 3 Billion €)
For a Division representing 50% of the group activity, the challenge of improving performance and achieving the objectives of the strategic plan, strong managerial role.
Managing Director
Position with strong technological focus, international presence (Turnover > 800 Million €)
In the context of new SaaS business model, business development ambitions focused on international key accounts, activity leader in the "OVI" (Operators of Vital Importance) market.
Compliance Director
Listed family-owned group
New position in an evolving regulatory environment with external growth requiring the formalization of a compliance role.
Director of Professional Development and Corporate University
SBF 120 Group
As part of a new strategic Human Resources plan, in addition to the trial of a Talent
Management offering, the challenge is to create a shared University for the managers of various sectors of the B2B industry (<55,000 people).
Communications Director
Environment / Energy Sector (CAC40)
Wide scope position intended for an industry Director with the strategic remit of both internal and external communications.
Human Resources Director
Automotive Industry
A global role across multiple countries working closely with the Operations team, the focus is on strategic workforce planning, Talent Acquisition, internal mobility, screening for Hi-potential and optimization of succession plans.